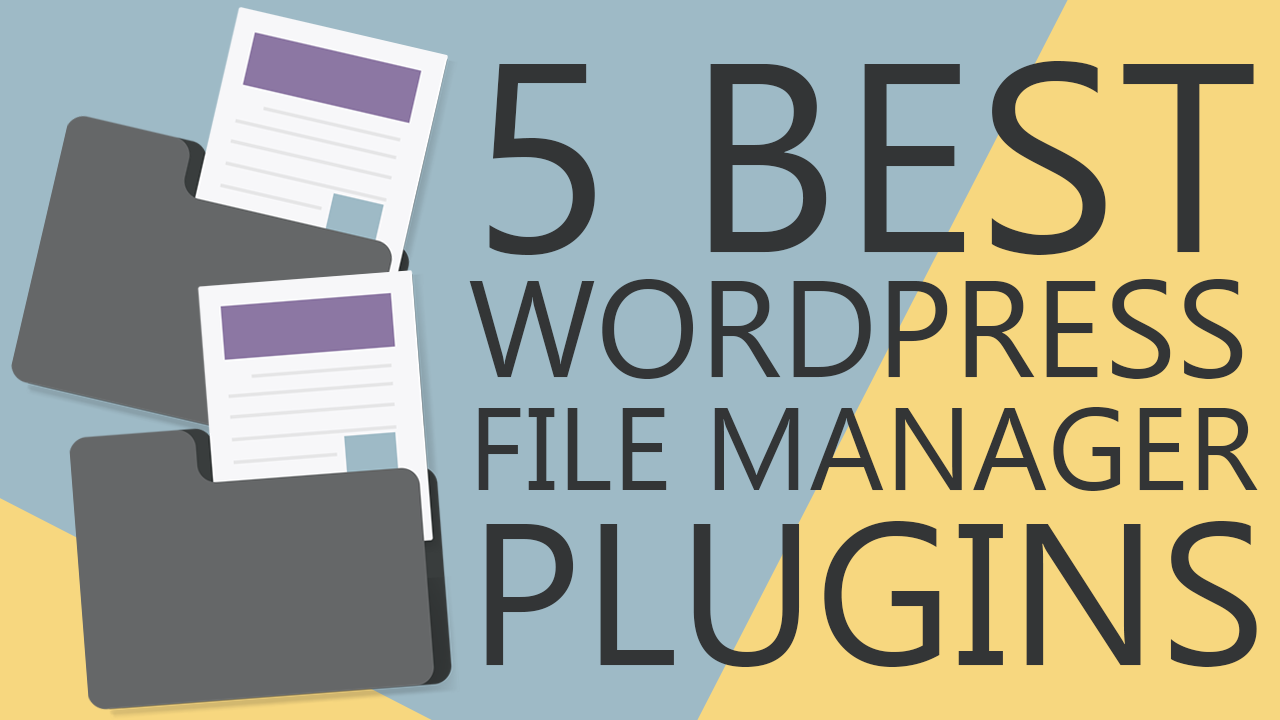 File Manager WordPress Plugins are the most required and important tool to keep your files properly organised.
If you have to take care of a lot of files and media on your WordPress website or blog then you need File Manager WordPress Plugin which can increase your productivity levels!
we are sharing 5 Best File Manager WordPress Plugins to make your work easy
1. Advanced File Manager
Advanced File Manager allows you to Edit, Delete, upload, delete, download, zip, copy etc multiple file operations, No need of any cpanel and FTP. You can access files inside and outside the root directory of a WordPress site.
KEY FEATURES
Editable Root Directory Path: You can edit the root directory path.
Shortcodes: Shortcodes for logged in and not logged in users with multiple attributes and features (allows users and users role access) are available for frontend (pro)
Files Access: Access files inside and outside in the WordPress root directory
User Operations: Upload, Download and Delete operations
File Operations: All the operations with files and folders (copy, move, upload, create folder/file, rename, archive, extract, edit, etc.)
PDF Preview: PDF Preview feature available
FTP Support: Alternative to FTP
Hide Files : Feature to hide the files real and actual path.
Trash: Move to Trash Feature
Themes: Light and Elegant client UI
Drag and drop: Drag & Drop file upload support
Icon View: List and Icons view available
Archives: Archives create/extract (zip, rar, 7z, tar, gzip, bzip2)
Image Edit: Image and File Edit Support
Preview: Quicklook, preview for common file types
Directory Size: Calculate directory sizes
Video and Audio: Video and audio preview/play
File Search: Support file search and sort
High Performance: High-performance server backend
Local File System: Uses local file system no need for a database
Keyboard shortcuts: Keyboard shortcuts available
Multi Selection: Multiple file/folder selection
Move Files: Move/Copy files with Drag & Drop
Toolbar: Rich context menu and toolbar
Thumbnails: Thumbnails for image files
Auto resizes: Auto resize on file upload.
UTF-8: UTF-8 Normalizer of file-name and file-path etc.
Sanitizer: Sanitizer of file-name and file-path etc.
Folder upload: Folder upload (supports on google chrome/Chromium)
Chunked file upload: Chunked file upload
Upload: Upload directly to the folder
Browsing History: File browsing history
Responsive: Works on tablet and phone
2. WordPress Download Manager
WordPress Download Manager is a Files / Documents Management Plugin to manage, track and control file downloads from your WordPress website. User Roles to control access to your files, It efficiently control downloads by putting a limit on download count per user, block bots or unwanted users or spammers using Captcha Lock or IP Block feature, you can ask users to agree with your terms and conditions before they download.
Also, you may use the WordPress Download Manager as a complete e-Commerce Solution for selling digital products. Simply give a price when you need to sell a digital item. You can use license ( ex: Simple, Extended, Unlimited ) based prices for a product. Users can directly download free items and when the item has a price user will have to go through cart & checkout.
3. File Manager Pro – By Giribaz
The File Manager Pro, a powerful file manager plugin from Giribaz, is one of the best file management solutions for WordPress today. This plugin is going to ignite a fire in your belly because it is providing the equivalent simple and robust front end to the developers as well as non-techies.
List of features
Use it as you do it on your desktop.
Supports all kind of file operations.
You don't need to set up FTP to manage your files online.
Can share any kind of document, media, archive file with your users.
Let your user upload files to your server.
Works with any standard hosting.
No coding only configuration
The post file manager interface with shortcode, widget or template function
Set permissions for your user and user role.
Ban any user you want.
Automatically create folders for your users.
Link your users to existing folders.
4. WordPress Advanced File Manager 
You know what, if you are non-techie then you will want to use File Manager plugins or customize your files in ways that are technically impossible! But this very easy to use File Manager Plugin and can convert your "impossible" to "possible".
More importantly, it has different icons for major file types. You aren't going to have to wade through countless images. Just click on preview icons to ensure that your images are tweaked to your liking.
5. Codify – WordPress IDE & File Manager
Codify file manager plugin provides an ideal environment to customize WordPress plugins. It comes with great features of editing multiple files with code auto-completion, syntax highlighting, etc.
Additional features include drag and drop interface, automatic indent and outdent, Code folding, Line wrapping, and the list goes on.  This plugin is more than just a file management plugin because it can handle huge documents.