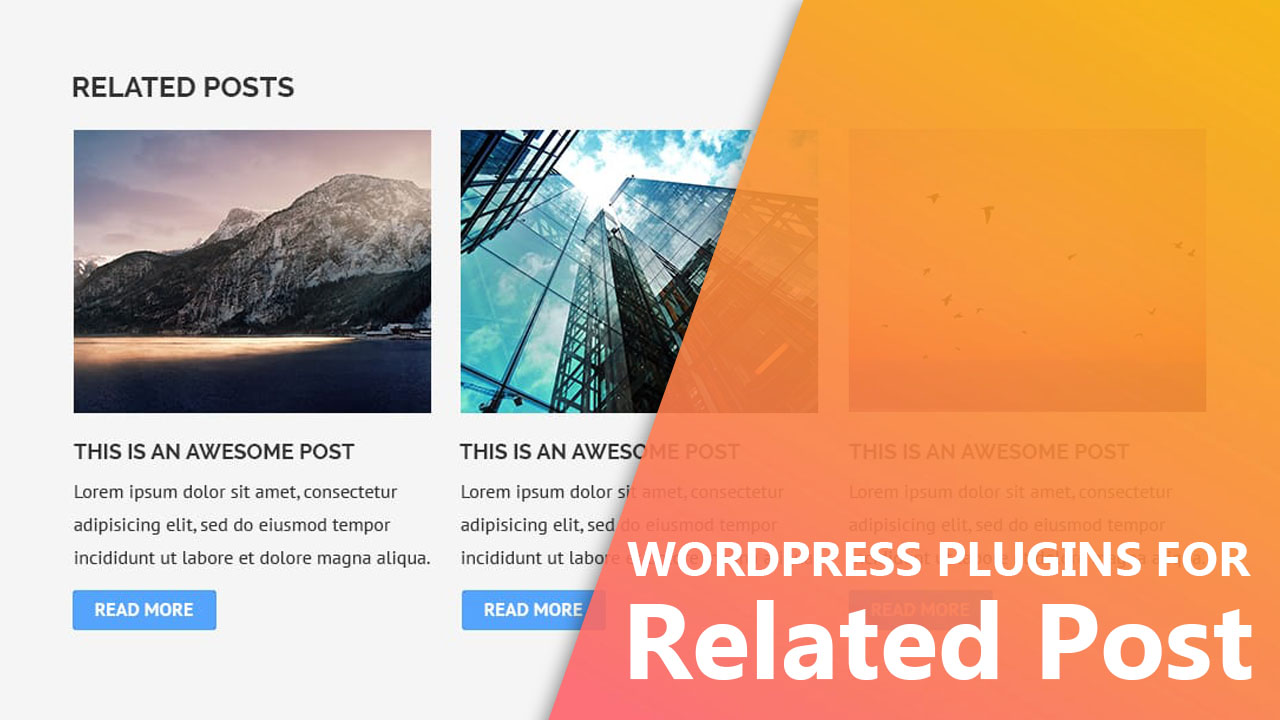 You probably spend a ton of time and effort trying to get more visitors to your WordPress site but it's too hard to get more visitors and also they spend much time on your site.
According to studies, 55% of your website visitors spend less than 15 seconds reading your blog posts then leave the website. That's a very short time you have to entertain your website visitors.
You need to use Related Posts Plugin because of Related Posts Plugin show post according to visitors interests. You can use any of free related post plugin from WordPress.org.
What Is Related Post Plugin?
Related Post Plugin make links in an ideal way to encourage visitors to remain on your website, Improving bounce rate, page views, and time-on-site statistics all metrics with a positive influence on your website's SEO performance. The Related Post Plugins are also a good way to inject life into some of your older articles, which have been pushed off your front page and no longer receive the traffic they deserve.
There are many free Related Post Plugin on WordPress and Each plugin works differently. Some will allow you to show related posts widget in your page's sidebar while others show related articles at the bottom of each blog post. Either way, its main goal is to let your blog readers browse more articles related to the topic they came looking for.
Here are the top 5 Related Post Plugin, you can use them on your site.
1. Jetpack by WordPress.com
Jetpack has a really good related posts feature that looks great and easy to use. It's a very good choice if you are already using it as related posts solution.
You can find related posts tool under the traffic section of the Jetpack's settings page. The posts look great, there are few customization options to set it. In the settings page, you can set to display a heading above related posts and define whether thumbnail images are displayed.
2. Yet Another Related Posts Plugin (YARPP) for WordPress
YARPP is the most popular and mostly used the Related Post WordPress Plugin. This plugin will give you options to show related contents for posts along with pages and other custom post types. The best part, this plugin cover all the content of your site you don't need multiple plugins. this plugin has a customizable algorithm that helps to show the posts based on post titles, content, tags, categories, and taxonomies.
This plugin can also pull related content from other websites in a very quick way. But YARPP needs more server resource than other plugins.
3. AMP for WP – Accelerated Mobile Pages
This plugin is mainly used to accelerate site performance in mobile. AMP for WP automatically adds Accelerated Mobile Pages (Google AMP Project) functionality to your site. AMP makes your website faster for Mobile users. but this plugin also has related post option and it is showing it in a very good way.
4. Contextual Related Posts
This plugin allows you to show related posts for a limited time period. Its also give you many options like randomize posts, display according to categories, limit posts from same post type and exclude categories from results.
It has many layout options so you can select template as your theme layout or as your choice. You can customize the HTML if you want to change elements, and there are around a dozen options related to thumbnails.
The plugin can also show related posts in RSS feed. The number of posts displayed, the location of the thumbnail and the thumbnail size can all be customizable for your feed.
5. Related Posts for WordPress
Related Posts for WordPress plugin is a lightweight and fast than other popular related posts plugins. It works all the resource-intensive tasks in the admin area and uses cache to load and display related posts.
This plugin focuses on performance because It is faster and does not slow down your site. It supports thumbnail images and title, description display of related posts list.
Its is also supports widget and shortcode functionality so you can use it anywhere to display related posts.
Wrapping Up
If you're struggling to keep users on your website, adding related post function is a proven way to encourage people to stay around, resulting in more page views, longer visitor duration, and reduced bounce rate, it can also boost subscriptions, social shares, and even conversions. Basically, all the good stuff!
All the above plugins that are featured today are capable of adding a fully functional related post section to your website. according to the layout functionality, you can use 'Contextual Related Posts' and 'Yet Another Related Posts Plugin (YARPP) for WordPress' or according to additional functionality you can use 'Jetpack', 'AMP For WP' and 'Related Post For WordPress'.