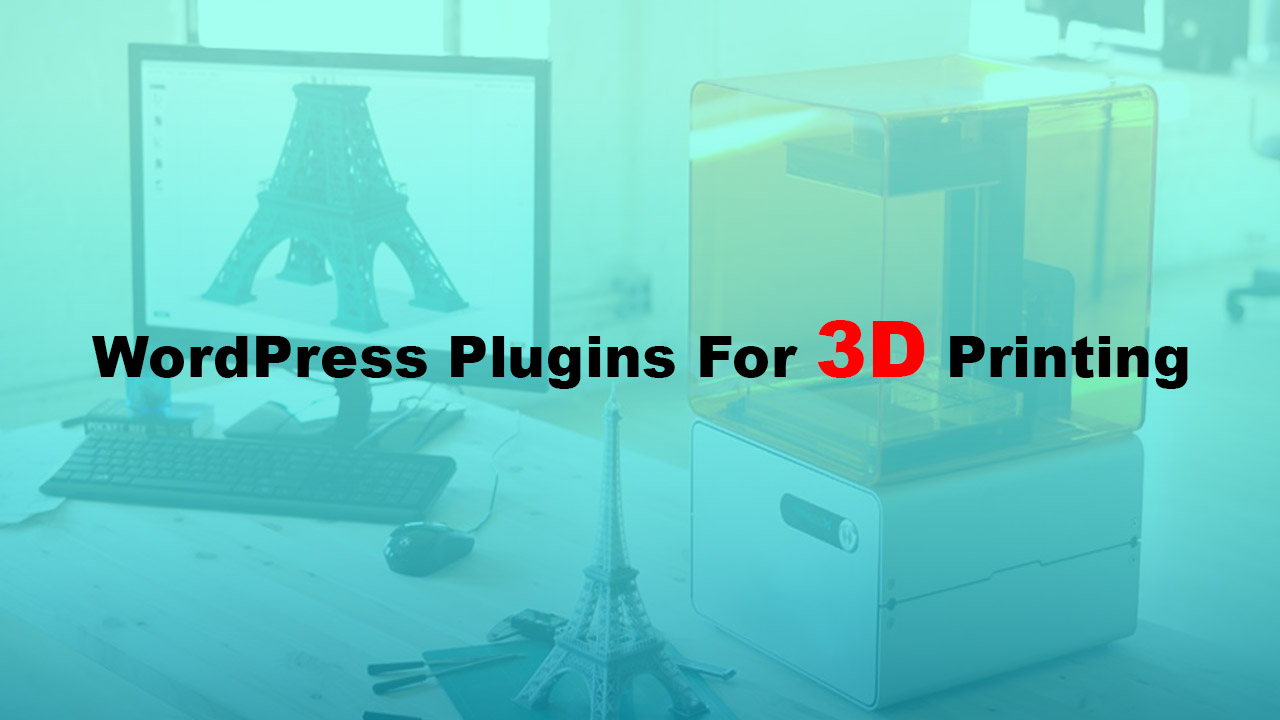 3D printing has swept the world of technology. It is one of the developing technologies that will replace several industries in the future, with various uses and unlimited potential. Eventually, 3D printing is becoming a more prevalent part of our daily life, with many creative people pursuing it as a pastime by purchasing their own printers. It also gives them the option to create a profitable business.
Take a closer look at these five WordPress 3D printing plugins if you want to set up an online shop, build a platform for selling bespoke 3D models, or just display your greatest 3D creations on your website.
3D Print
3DPrint is an excellent resource for people considering launching a 3D printing business. Clients may order bespoke 3D models by submitting their own digital models to your website with this plugin. They may also choose from a variety of additional variables, such as filament, color, and model size, and immediately see the approximate cost of the final items. Customers can obtain the actual pricing from the admin using the handy "Request a Quote" button if the approximate fee suits their budget. Furthermore, 3D Print Lite has flexible pricing choices, allowing you to charge per model weight, filament volume, or bounding box volume. The 3D Print plugin is free and open-source. It comes in both a free and a paid edition. The free version of the plugin supports STL, OBJ, and ZIP file formats, while the premium version adds support for more formats including STP andIGS. The premium edition own includes a WooCommerce connection for improves eCommerce shop usage.
Verge 3D
Verge3D is a fantastic content production and e-commerce platform. Product configurators, 3D presentations and portfolios, online storefronts, browser games, and e-learning programs, among other things, are all possible with this plugin. The options are nearly limitless thanks to the software's vast toolkit. One of the finest features of this plugin is that it allows you to view the models from a genuine 360-degree interactive perspective. With your 3D models, you may reach out to thousands of internet users and potential consumers. The plugin also has remarkable zooming capabilities, allowing visitors to examine the 3D object from any aspect. Verge 3D works flawlessly on all devices, including PCs, smartphones, tablets, and television. The software's interface with the most common modeling suites allows you to upload your 3D creations directly from your CAD application to the website. Beyond everything, Verge3D components are hosted on your own WordPress sites.
Phanes 3DP
Phanes 3DP is a sophisticated WordPress or WooCommerce plugin that turns your website into an online store where you can offer 3D printing services. The simple-to-use plugin includes both free and premium modules, as well as a variety of functions. Phanes 3DP lets you add as many filament characteristics and pricing as you like, and it doesn't charge a fee on the items you sell via it. However, the downside is that the free module, on the other hand, only allows PayPal as a form of payment. This only serves the most common currencies, including the USD, Euro, Yen, Australian Dollar, British Pound, and Chinese Yuan. You may, however, upgrade to a premium subscription for $14.95 / month to expand your payment choices and take Stripe payments as well. Furthermore, the premium edition of the plugin enables the use of additional features such as volume and density calculations, bulk and zip bulk uploads, and delayed price quotations.
Woo3D Viewer
Woo 3D Viewer is a straightforward, user-friendly plugin that allows clients to customize their scene and model settings, backdrop color, shadows, specular lighting, and transparency of the final result. Unlike 3D Print, Woo 3D Viewer is available in both free and paid editions. The free edition includes support for the STL and OBJ file formats, as well as WooCommerce integration. In contrast, the Pro version offers model repair tools as well as variable product support. Woo 3D Viewer Pro includes model repair features as well as varying product support. Furthermore, the Pro edition allows you to secure your models from unauthorized downloads by converting them to PNG, WEBM video format, and animated GIFs. Users may also make payments directly from the website and get a quote if the anticipated price matches their budget.
Canvasio3D
Canvasio3D is an excellent solution to exhibit your items on your WordPress website in a visually appealing and understandable manner. Canvasio3D is a shareware, incredibly plugin that comes with sophisticated software for viewing 3D models. This plugin allows you to easily upload 3D models to your WordPress site in a variety of file formats, including OBJ, STL, DAE, and MTL. You may also modify them from a single dashboard by using the menu buttons. Canvasio3D is a pleasure for viewers since it allows them to view 3D models from any angle. They may view the models as realistically as possible by using the zooming features. the plugin is accessible and open source. It supports languages other than English, such as French, German, Polish, Japanese, and Italian. The plugin is accessible and open source. It supports languages other than English, such as French, German, Polish, Japanese, and Italian.
Conclusion
Using the aforementioned plugins, you can easily show your 3D objects on WordPress's advanced CMS system.
Experiment with these plugins to let your imagination run wild. Best regards!