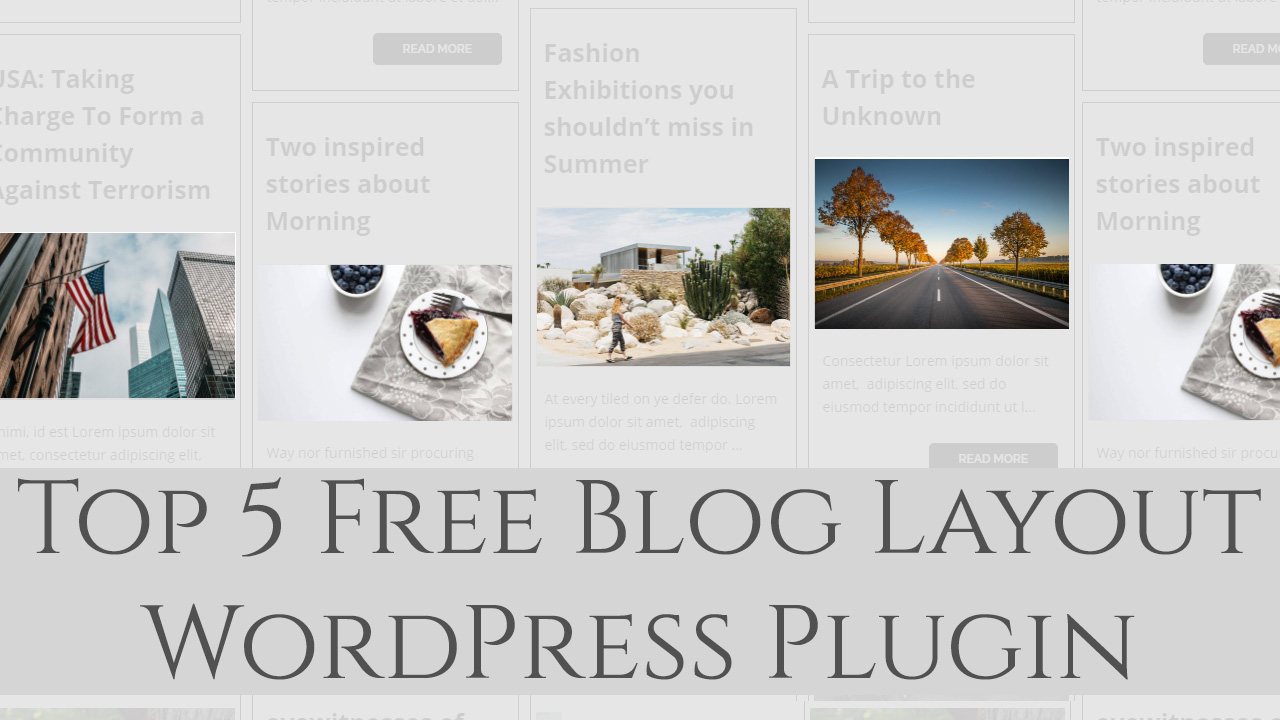 Blogging proves that it's the biggest way to attract visitors to any site. Also, bloggers have created a huge industry for sharing information. We can see that many popular brands and persons have their own blog section and the are keep updating it. Mostly all business tycoons, journalists, hospitality keep sharing their ideas, plans, experiences, and strategies. In short, you can say that your blog is your way to share your message and ideas to there visitors.
But the question is, how much time it will take?
Probably we all need all kind of nutrition and minerals to maintain our health otherwise our body can't be manageable with all types of weather. exactly like this, your blog needs good kind of layouts to hold your users effortlessly. Good layouts not just design your site's look but it gives shape your thoughts in your desired way.
So, to load your blog with the beautiful layout we've picked some essential WordPress blog layout plugins. Below layout plugins are based on the latest web trends and also compatible with the new and old version of WordPress.
1. Blog Filter – Blog Portfolio
Blog filter plugin comes with a really simple and easy to use (user-friendly) interface, beginners and experts both users can easily use it because they don't need to do anything, just install and activate the blog filter plugin. You need to generate the shortcode and paste it where you wanna your show blogs with category filtering. It will automatically show all blog and categories itself.
you can choose categories then the plugin will show only selected categories and blog that are related to selected categories. you will also get many configurations options like filter color, thumbnail color, title and description hide/show, categories and date hide/show.
2. Blog Designer
It  is a good handy and free solution for anyone, who is looking for a responsive blog page for the website. Blog Designer provides you with a variety of 6 different blog templates, with these templates anyone can set up a blog page for their WordPress websites. Sometimes, we think to change blog layout but we got only one blog layout as per the theme, but it's not easy to change blog layout, only you can do it by modifying CSS files.
If you are using the Blog Designer plugin you can design your blog page as your choice to give it a good looking layout. Also, you can modify various settings very fast from the admin side of Blog Designer plugin, it has a User-Friendly Admin Panel. So, beginners can also start blogging within 5 minutes, no need to learn coding skills.
3. Post Grid

Almost everything is ready to create post grid from any post type that is in your WordPress, with few clicks you can generate beautiful grid for your site, you can also show product showcase, team member showcase, portfolio, gallery, archive post display, category post display, tags post display and custom taxonomy and terms post can be displayed with post grid. if you have basic knowledge in CSS you can apply your own with layout editor to create a unique style of your grid.
More Information
4. Blog Designer – Post And Widget

Make your blogs look fancy and attractive with Blog Designer Post and Widget.
Blogs are the main attraction for marketing your website. The Blog designer post and widget plugin helps your blog posts to slide and display in a fancy way that takes maximum attraction from the website visitors. It is an easy and fast way to add install and display the blog slider on your website page.
The blog designer post and widget plugin slides and grids the blog posts in two new and different designs. It helps in improving your website page with more attraction. You can start blogging and displaying your latest blogs in a more creative and stylish way by using this plugin.
More Information
5. The Post Grid

The Post Grid is a fully Responsive, Mobile friendly, User-friendly plugin to display your page or post in Grid, List and Isotope View without any line of coding. It is fast and easy to generate grid from admin end and insert into any page or post. You can Display posts by any of these category(s), tag(s), author(s), the keyword(s) also Order posts by Id, Title, Date and Menu order.
Wrapping Up
We hope that you have finally got the Blog Layout Plugin as your expectations after reading this post. Also, we know that many things we forgot to mention. If we missed something special and you want to suggest us, please add your feedback in the comments box. We will try to cover it in our next post.