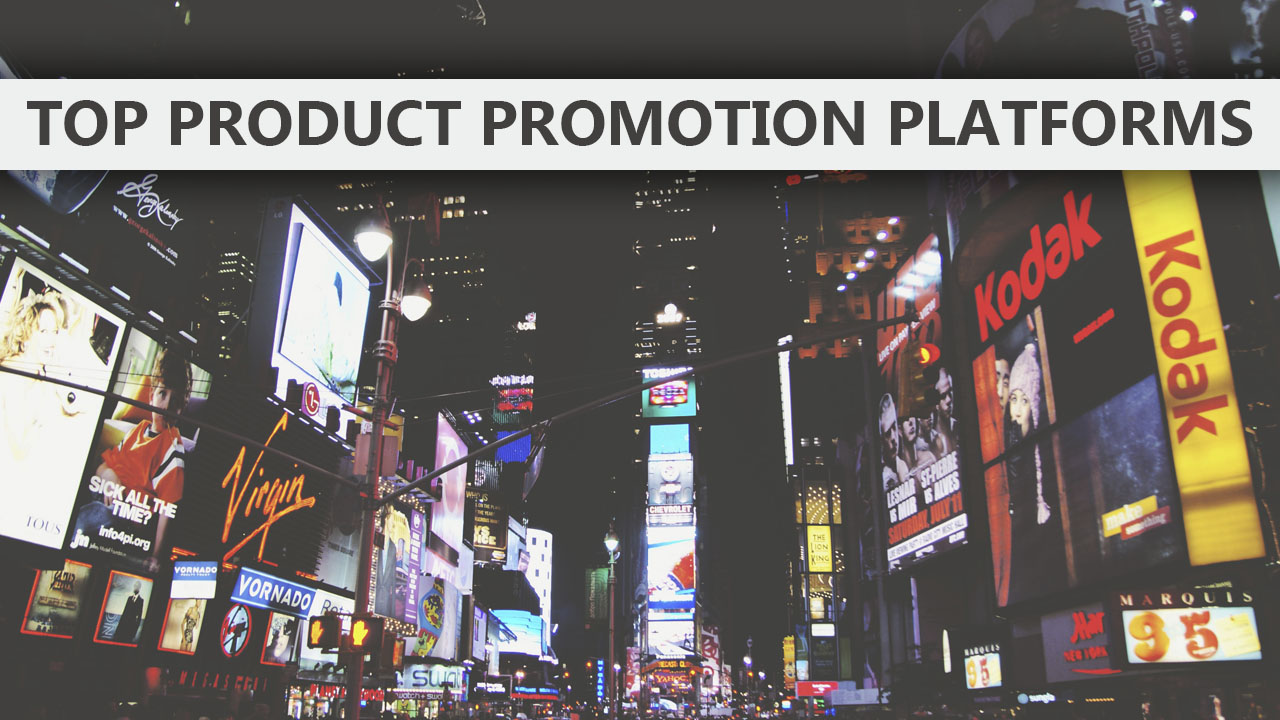 An online product promotion platform is the best way to promote your product. There are 100's of websites available that provide free of cost promotion. Beginners who have just started their business can use this to achieve their goals. You can use multiple websites to promote your goods for maximum possibilities of success.
Although there are only a few websites who provide the results you wanted. To choose from the best you have spent countless hours to search for the finest, in other words, your time will be wasted. Therefore, we have constructed a list of all top websites for those who provide free product promotion.
1. YouTube
YouTube has high possibilities of getting our link on the first page of the Google search engine. This platform is based on the video only, which is very good because a customer can see live a video of the product you are selling. After that fill in the proper description but don't make it fussy, let it be more clear that what you are selling and describe its pros and cons.
Firstly create a video tutorial of your product using any of the editing tools then post it on YouTube with a link to your website at the end of the video. The link gives the viewer to easily redirect to your website, in other words, you will start getting traffic on your online store. The more traffic you get the more the chances of your products to be sold.
Set up your channel – YouTube
2. Reddit
Reddit is known as a great social media bookmarking platform with a voting system to discover content. Their voting system works fairly if your content good then you more likely to get more votes which keep your content on top. But to do so you have to set up a nice looking profile by filling all details. Then you have to participate in similar subreddits. Make sure to choose subreddits wisely because each has different languages.
Moreover, if your submission gets a good amount of upvotes then it will slide to the hot section and possibly the homepage. However, don't submit links of your websites too often otherwise you will get banned. As said by Spencer Haws you should only submit one self-promotion submission per 10.
Create your account – Reddit
3. Slideshare
Slideshare is the world's biggest platform for creating presentations. To publish your content you need to summerise it in the form of slides and upload it on the website. The priority is to keep the points in your presentation limited and design of slides to be as simple as possible. Above all, write an informative title and description for your presentation to make it easy to understand.
You can as well include your website links into your slides and your profile. This makes it easier for the viewer to reach your website and this benefits in increasing traffic to your website. Moreover, it gives a boost to your sales and maximizes your profits.
Join and explore – Slideshare
4. Facebook
Facebook is the world's largest growing social media network that offers almost every possibility to make your business grow. 23% of the overall website's visits are driven by the Facebook ads feature. For promotion, you can create a shopper page for your customers. On the page, you can display all your products with HD images and a descriptive summary of the product.
Besides, you need to make a strategy to target a particular audience to get better results. You can even opt-out for the paid ads, for some amount of money Facebook provides the easy advertising of your products. Select the number of visitors you want to reach and the price is also given.
Establish your online store – Facebook
5. Twitter
Twitter is a popular social media platform that has the most controversial content. It is in the third position in driving traffic as per Shareholic's 2014 data. The platform is good for the B2B business. You can tweet your blog link with a tempting introduction, a combination of similar hashtags at a suitable time with HD images is a sound Twitter strategy. Schedule the same blog more than once or twice for a better response.
You can always search for better strategies through the web to better understand the functionality of twitter and how to get the maximum output of it.
Start tweeting now – Twitter
6. LinkedIn
LinkedIn is one of the most favorite hanging out platform social networking platform. It also called gold mine for the B2B companies. You can start by publishing your ready blog post content. Edit the content of your blog post or you can publish a particular part of your blog. Set read more links at the end of the post which redirects the readers to your full article.
LinkedIn profile is another place to showcase your stuff. In addition, you can add your links to your best posts, videos, documents and photos with every role description.
Begin posting your content – LinkedIn
7. Quora
Quora is the platform where you can gain and share your expertise tips & knowledge with others. The platform is similar to the Yahoo Answers but it is moderated and ramped up version. Q&A allows the user to interact with others by asking the question or giving their expert advice on the latest topics. There are various interesting sub-topics which act as leverage to attract followers by giving them your valuable advice.
Quora also has a blog, space where you can display your blog post content. You can utilize it to attract the targeted audience to your articles and pages.
Show your expertise – Quora
8. Udemy
Udemy is the world's largest open-world learning and teaching platform that had access to more than 5 million students. Wide variety of courses to choose – from internet marketing, SEO, entrepreneurship, photography, programming to yoga, spirituality, food, music, etc. Udemy also allows any individual to publish their own courses. The best websites for the book nerds and people who always want to learn something with their work.
Udemy gives your opportunity to earn revenue from the courses you have published, you can charge anywhere from 10 to 1000$ for it. You can also drive traffic to your blog post by making announcements to your course students.
Share your knowledge – Udemy
9. Pinterest
Pinterest is also one of the famous social media platforms where you can share images, videos, and gifs, etc. The platform is very beneficial for the lifestyle brands or in other words pure gold for the clothing brands. Share the pictures of infographics and images of products similar to your industry. People usually come to Pinterest to get inspiration for their work or to create something beyond.
Pinterest has everything you want in one place, looking for ideas, or place you want to travel or house interior decorations and fashion tips or make-up tutorials.
Explore the world of inspiration – Pinterest
10. Tumblr
Syndicate your article with Tumblr to get more traffic on your blog post. For beginners, you are recommended to use plain and simple themes and use only 7-12 tags or you will be marked as a spammer. The more impressive your content the more hits you will get. Use short and punchy content and you can as well use visuals, videos and quotes generally. Unique content is always welcome on Tumblr so don't be afraid to experiment.
There are many tutorials available on how to make money through Tumblr. Watch those videos and apply your own strategy to generate money.
Sign up now  – Tumblr