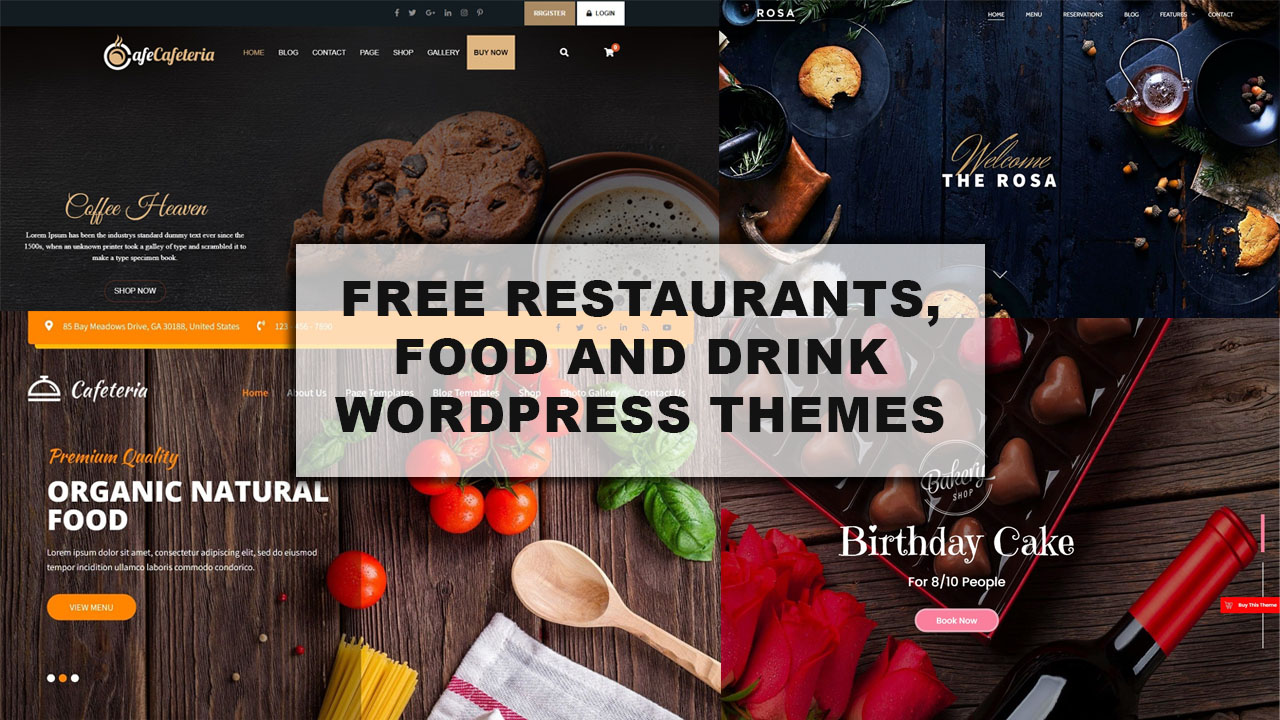 Restaurants with high-quality food deserve top-notch presentations. An impressive website will make your business shine on the web. With features such as fully-customized menus and integration with industry-leading booking solutions, a top-class WordPress theme can cause eager new clients to visit your website.
Below you will find a list of the newest food and drink-related WordPress themes.
Organic Farm
Free Organic Farm WordPress Theme is suitable for sites about nature, organic, natural, farm products, solar power, herbal, and eco-friendly themes. Having a design that is both simple and elegant, this multipurpose theme is liked by everyone.
Taking advantage of this theme means you have many options for customizing and personalizing it. The framework is based on bootstrap, which makes it run smoothly. To enhance the functionality of your website, you can add a shortcode.
Restaurant Zone
The best WordPress themes for food bloggers and businesses alike will allow you to share recipes and products with ease. Using the Free Restaurant WordPress Theme you can create websites for restaurants, cafeterias, coffee shops, bakeries, sushi bars, barbecues, bars, restaurants, or fast food outlets. The theme is also suitable for a food blogger who loves discovering new dishes and sharing them with others.
There are tons of awesome features packed into this free theme. Several options for customization and personalization allow you to fully customize your website. Using the Restaurant Zone theme will make your website more search engine friendly and will make it easier for search engines to index your website.
Café Cafeteria
WordPress theme Café Cafeteria is intended for use at cafes, diners, restaurants, fast food chains, restaurants, food delivery services and cake stores. Anyone who uses this theme will fall in love with its clean, modern, luxurious and professional design. An adaptive layout makes it compatible with all devices and mobile-friendly.
Furthermore, it is SEO-friendly, so your site will rank higher on search engines such as Google. As well as supporting RTL layout, this translation-ready UI can be translated into a number of languages. A great deal of customization and personalization features can be found in this templated software.
Nutmeg
Food bloggers and food recipe websites can use Nutmeg free WordPress theme. The Nutmeg block editor has several custom Block Patterns integrated and was created for WordPress Block Editor (Gutenberg). There is no need for plugins like Elementor, Visual Composer, Beaver Builder, or anything else for page building.
With Google's Web Vitals page speed test, Nutmeg scores high. Based on popular themes such as Foodie Pro, Soledad, Sitka, Rosemary, Foodica, and Yummy Recipe, Nutmeg aims to take its place among the top alternatives. Other WordPress websites, such as those that cover travel, lifestyle, fashion, beauty, and product reviews, can also use easily.
Classic Bakery
A classic bakery theme is suitable for bakeries, juice shops, food courts, cafes and coffee houses, cake and pastry shops, eateries, chocolate and cookie shops, and ice-cream shops. During their visit, your website visitors will be completely glued to the design because it has a modern, luxurious and sophisticated look. Having a responsive design, it looks great on any screen.
This means that you can rank your e-commerce site quickly on major search engines like Google thanks to its SEO friendliness. Furthermore, this theme is easy for users to customize and personalize with lots of options. As a result of having a speed-optimized theme, the page loads faster.
C9 Togo
WordPress 5's C9 Togo theme has a block-driven design that is designed for restaurant ordering and delivery. It's built using Bootstrap's responsive grid system and blocks, based on the C9 Starter theme.
Cafeteria Lite
The Café Lite theme is a perfect theme for food and restaurant sites. It's clean, extensible, modern, minimalist, and powerful. Cafeteria Lite is an elegant food and restaurant website theme that has a modern, minimalist style. The food WordPress theme is designed to help you build professional and elegant websites for companies that deal with food.
A unique style of online presence is created for your website by using this solution for food providers, and suppliers. This multi-purpose theme would be most suitable for restaurants, pubs, fast food, coffee shop, catering businesses, and any other related businesses. A food blog or recipe magazine would fit perfectly with this theme, even if it can be adapted for different types of businesses.
Café Coffee Shop
Designed especially for cafeterias and coffee shops, Café Coffee Shop is an incredible theme. Multifunctional and versatile, it is also a perfect fit for restaurants, eateries, and bistros. Due to its expert coding, it has a professional appearance and a design that is intuitive and appealing. It is designed for businesses like restaurants, hotels, fast food providers, cafes, pizzerias, burger joints, restaurants, cloud kitchens, and fine dining.
A typography menu in the footer allows users to change font size, font family, margin, spacing, and more. By utilizing an intuitive admin panel, you have access to various customization options that facilitate the creation of a beautiful website without having to write code. With this modern theme, you can have content and images of your website look vibrant and beautiful due to the retina-ready design.
Rosa Lite WordPress Theme
The Rosa Lite is the most popular WordPress theme for restaurants and other culinary businesses that helps owners create an experience that people love and remember. The application allows you to tailor it your own by tailoring it to meet your individual needs and preferences. Having versatility allows it to adapt to a wide range of industries, which makes it an excellent theme for businesses.
The website features a parallax effect to grab attention and an online food menu so people can discover your menu, along with an easily customizable interface without requiring coding and responsive design for mobile use. You can choose from a predefined set of carefully crafted color palettes to customize the overall color scheme of your site using Style Manager.
Di Restaurant
WordPress Theme, Di Restaurant, is a very responsive and attractive theme for restaurants. You can use it to build a website for any type of restaurant, café, hotel, and any type of food business. With DI Restaurant, you can create a WordPress website that is fast to load and supports Woo Commerce options. Several ready-made templates are included in the Di Restaurant WordPress Theme, which users can import, edit, and customize.
It features a one-click demo import, typography options, blog options, Woo Commerce icons, a footer widget with 6 layout options, and a copyright section at the footer.