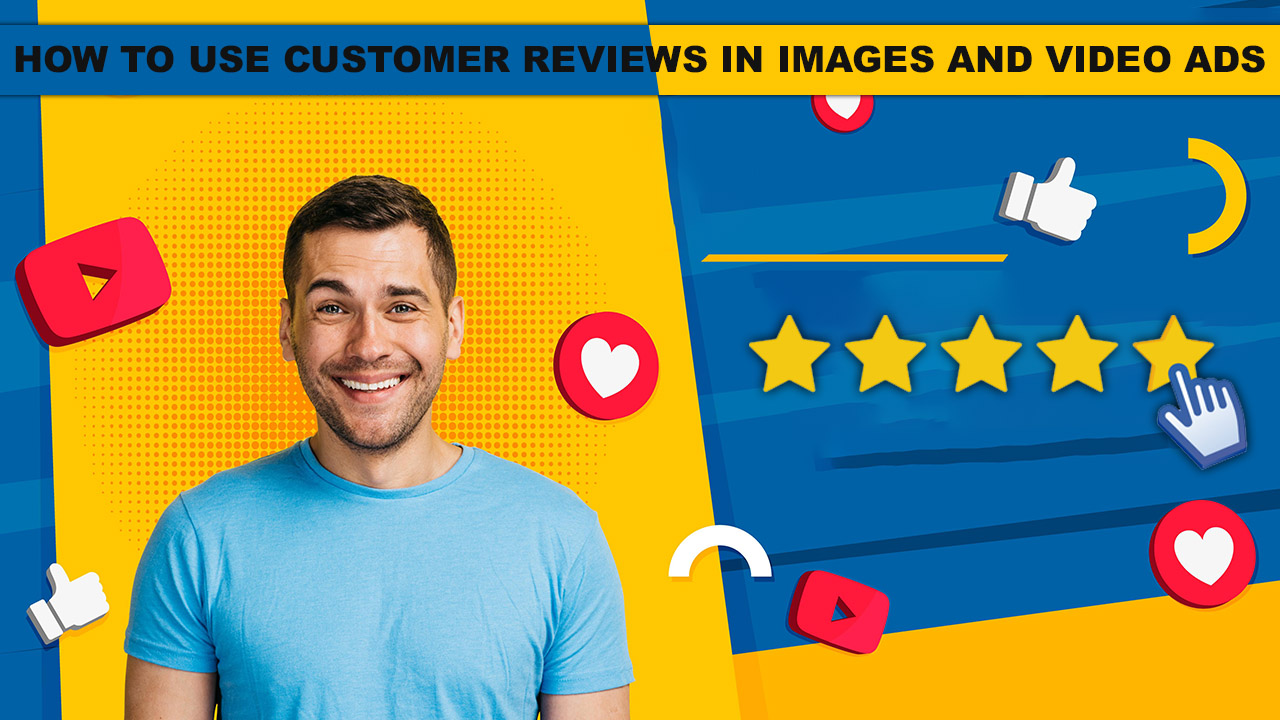 It can be difficult to choose between the different types of ad text and images. Which message is likely to entice consumers to purchase your product?
The best strategy for ad success cannot be applied to all campaigns regardless of how thorough your plan is. To share the value of your product, don't look inside your organization for inspiration, but look to your past and current consumers.
Make use of reviews you have already received from satisfied customers. The majority of consumers read consumer reviews before making a purchasing decision. Including genuine, positive reviews in your advertisements is a great way to distinguish yourself from your competitors and show your audience why they should hire you.
To help you craft effective video and visual ads, we're going to discuss 5 strategies.
Images and videos that include customer reviews are more effective. Why?
If someone finds out about your business or product online, they're going to do a little research.
Customers are not just concerned with slick visuals: they are also interested in consumer reviews. Consumers trust online reviews from strangers more than those from their families and friends.
The best way to use customer testimonials in advertising graphics and videos.
Using customer reviews in your marketing strategy can be done in countless ways. You can leverage customer reviews as marketing by following these six strategies.
1. Make a great video or image out of a customer review
It is true that good reviews are gold, but not presenting them properly can essentially render them worthless. Create an image (or video if that is more your brand's speed) that grabs people's attention and gets them to read your reviews.
Here are a few design tips you should know.
Design
Consider the user experience (UX) when planning your testimonial. Text content and visuals should also be used strategically, including white space. Organizing your image will enable you to create an easy-to-deduce image.
Stunning Visuals
Internet users are flooded with extremely low-quality, generic photos. Integrate images and colors appropriate to your brand to leave your customer reviews standing out.
Colors
Viewers can be stopped in their tracks by color and evoke feelings by using it. Think about what message the colors in your testimonial images should convey as you design them.
Typeset
Typography can help emphasize what your customers say beyond the overall appearance of your testimonial graphics or videos. Bold and bright colors can be used to draw attention to pain points so that the viewer knows the quote is relevant to them.
Easily readable
Creating a visually striking testimonial won't overshadow the message, however. Keep in mind the three Cs of Google Marketing when designing these images: clear, concise, and compelling.
2. Review Customer Reviews for a particular ad theme
Advertising has the ability to evoke powerful emotions. Choosing the right emotion for your testimonial campaign will help you design it.
Included-
Comfy, Positive self-esteem, families, beauty, bravery, and patriotism.
Your brand and mission are influenced by the values that you hold.
The key to crafting an impressive testimonial for your product is to pair a compelling sentiment with a compelling copy that captures your customers' attention.
3. Make Social Shares More Powerful by Using Customer Reviews
Getting to know other customers can help an undecided shopper become a dedicated buyer.
A social media user out of every four follows a brand whose products they are interested in. Your customers can make a more informed buying decision by monitoring your social platforms and responses from them.
In addition, you can use client testimonials and reviews to further emphasize the great features of your product in your social strategy.
Share customer feedback to increase brand credibility, engagement, and ultimately, profits.
4. Make your email marketing strategy stand out by including customer reviews
Incorporating customer reviews can benefit any email marketing strategy. The medium's historical return on investment (ROI) idealizes images or videos of customer reviews.
In addition to building credibility, it can increase your click-through rate (CTR) if you include these testimonials in emails.
You can share customer experiences and demonstrate what customers should expect as customers by utilizing customer-created narratives.
When creating testimonial content, no matter which route you choose to incorporate into your online marketing strategy, there are 3 best practices to follow.
Brief and Sweet
Quote only a portion of a customer review. Make a bold headline out of the best part. Sharing a review on social media requires a link to the full review.
Be thankful
Do you want more reviews from customers? Marketing tools like these are invaluable, of course. Thanking your consumers for sharing their experience with your organization will encourage them to do so in the future.
Share and Retweet
You should always monitor your social media account to see if there are any positive comments posted. Your social media efforts are specifically affected by this. Whenever you find these gems, you should ensure that you share them across your community.
5. Use customer reviews in your search strategy
The search engines aren't just interested in the quality of your listing; they are constantly monitoring your brand and product to see how consumers are responding to it.
By including reviews in your listings on Google and Microsoft, you will show your customers' sentiment. Furthermore, updating your content regularly can boost your search visibility by earning you featured snippets and higher Google Seller Ratings.
Wrapping Up
The benefits of leveraging customer reviews can be applied to any industry or product.
A design that is engaging to the eye could make your business more appealing to users, particularly as more and more people search on the Internet for information about what a product can do for them.
Consider launching an entirely review-based campaign, as well as employing the strategies we discussed above, as a way to provide potential customers with proof points. The right reviews can help you tell your brand's story as effectively as possible, all while increasing its visibility and recognition.