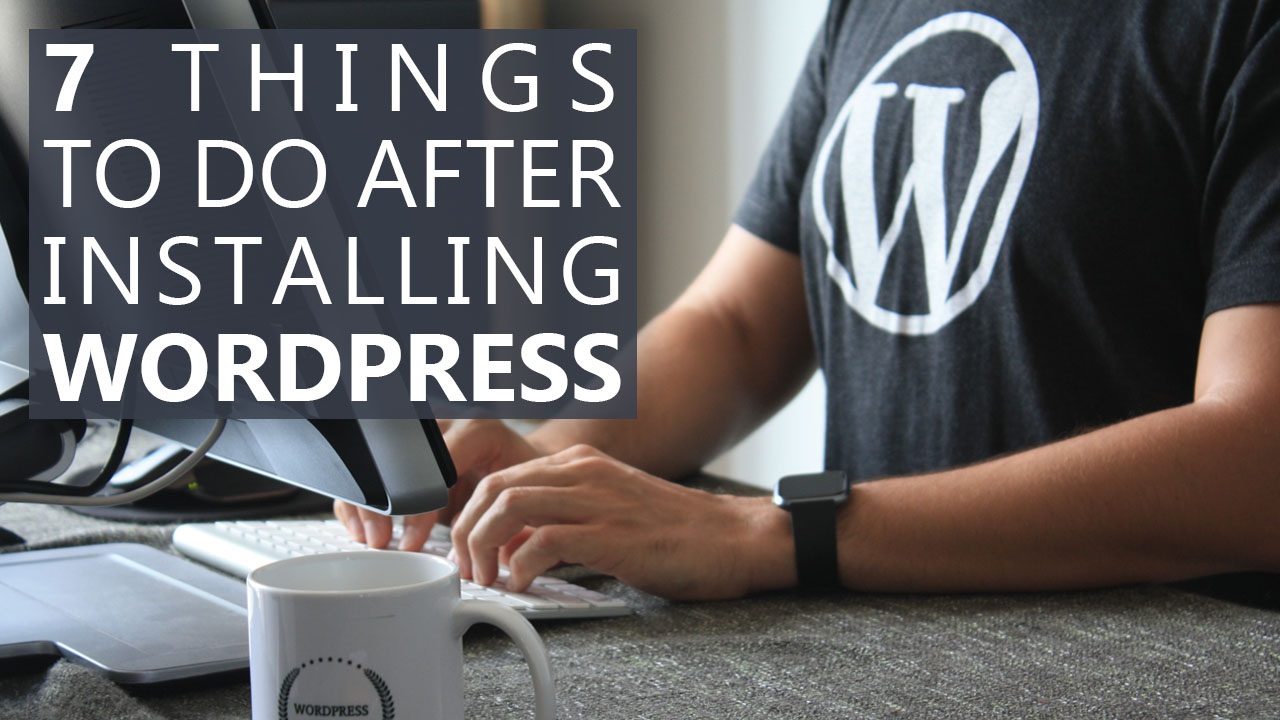 WordPress is an incredible content management system. It is the most popularly used worldwide and is pretty easy to learn. But after installing WordPress next thing is to do set up some interesting things that we will discuss in this post.
It's great to have WordPress installed. The common query asked by the beginners is What do you do after installing WordPress? In this post, we will discuss 7 most essential things to be done after installing WordPress.
#1. Configure General Settings
General Settings include Site Title, Tagline, Timezone, and Favicon which have to be configured. Go to Settings> General option on the Dashboard. You can also change the Site Title, Tagline and TimeZone form general setting.
Site Title and Tagline should be such that it resembles your site, as it will appear in the Google search results. Default site tagline is "just another WordPress site". And you can change it as you want to change.
#2. Change Display Name, Username, and Password
It is really important to create your username and password carefully. WordPress websites also get hacked, and more than often this happens due to poor login credentials. Hackers don't try to hack websites manually or brute-force scripts to try and get into your precious website. That's why it's crucial, before you do anything else, to configure a good username and a password that nobody else can possibly guess.
If you installed WordPress, you probably had to configure a username and password. In the WordPress admin dashboard, you can't change that username. If you're like the username, awesome. If you're not like, simply create a new user and configure it the way you want it to be.
#3. Upload A Favicon or site icon
A site icon or a favicon gives your site a different identity in other sites. You can follow the steps for upload favicon.
Configuring a site icon in WordPress with some easy steps.
Go to the home page of your website.
Click on customize from the top bar or( Appearance > customize form Dashboard ).
Navigate to site identity
Upload an image that you want
Now you will see site Icons in browser tabs, bookmark bars, and within the WordPress mobile apps.  Site Icons at least 512 × 512 pixels.
#4. Install WordPress Theme and plugin and Uninstall Unused
By default,  WordPress installation comes with some free themes. And you will find a default theme is activated by default.
Choosing a theme is a really important step because a theme has a huge impact on the success of your WordPress blog or your corporate site. A theme should match your expectations in and also has look and feel. A theme should be a good reflection of your Work. In addition, choose a theme well-programmed and it should be regularly updated.
You can keep using a free theme, or you can go to purchase a premium theme it is on your requirement. It's important to delete themes that you're not using or they have errors , as they can make your website heavier.
You can check some free and premium themes from AWPLIFE it is really easy to use and simple & nice-looking themes.
Now come to the plugins, you can use plugin for your different needs like SEO, cache, optimization, gallery, contact form extra. It is also an important thing for choosing a plugin because some plugin has bad coding that conflict with other themes and plugin. So check carefully what you need and you can also check reviews of other people. Install a plugin when you really need it.
#5. Creating A Contact Page
A contact page is also an important thing because if your visitor needs any query about your site or products or they want to give any suggestion so they can contact you through the contact page. You can check Contact Form plugin
Contact Form WordPress plugin comes with shortcode and widget. Shortcode displays a contact form on any pages and posts even with the widget area. Where users/visitors can submit their queries and receive a success message set by the admin. Once the user submits the query, an email to the user and admin goes as a notification. Admin can also check all users queries into the admin dashboard and follow-ups all query. Admin can download the list and report of all queries.
#6. Install A Gallery And Social Plugins
If you want to show your Artworks or portfolio then a gallery plugin may be a great tool for you.
You may like Portfolio Filter Gallery one of the top-rated portfolio plugins on WordPress It is really easy to use and minimal layout. You can create your portfolio with some click it has a unique way to create a gallery.
For the social media feed, you can try Animated Live Wall Plugin. It has a unique great live animation of images and you can show your social media feed like Instagram and Flickr or you can create your own gallery.
#7. Improve Loading Speed
Excessive load times can affect your traffic and results in poor SEO score. It will also pull down your Google search rank and decrease your website's overall potential. However, a free or low cost caching plugin can easily hep you solve this problem. By using a caching plugin, HTML, CSS, Javascript code are saved in the cache already present and ready to be delivered quickly. Here's some recommended cache plugin: WP SuperCache, WP Fastest Cache, WP Rocket.
I hope you liked our post you can give your feedback in the comment section below.