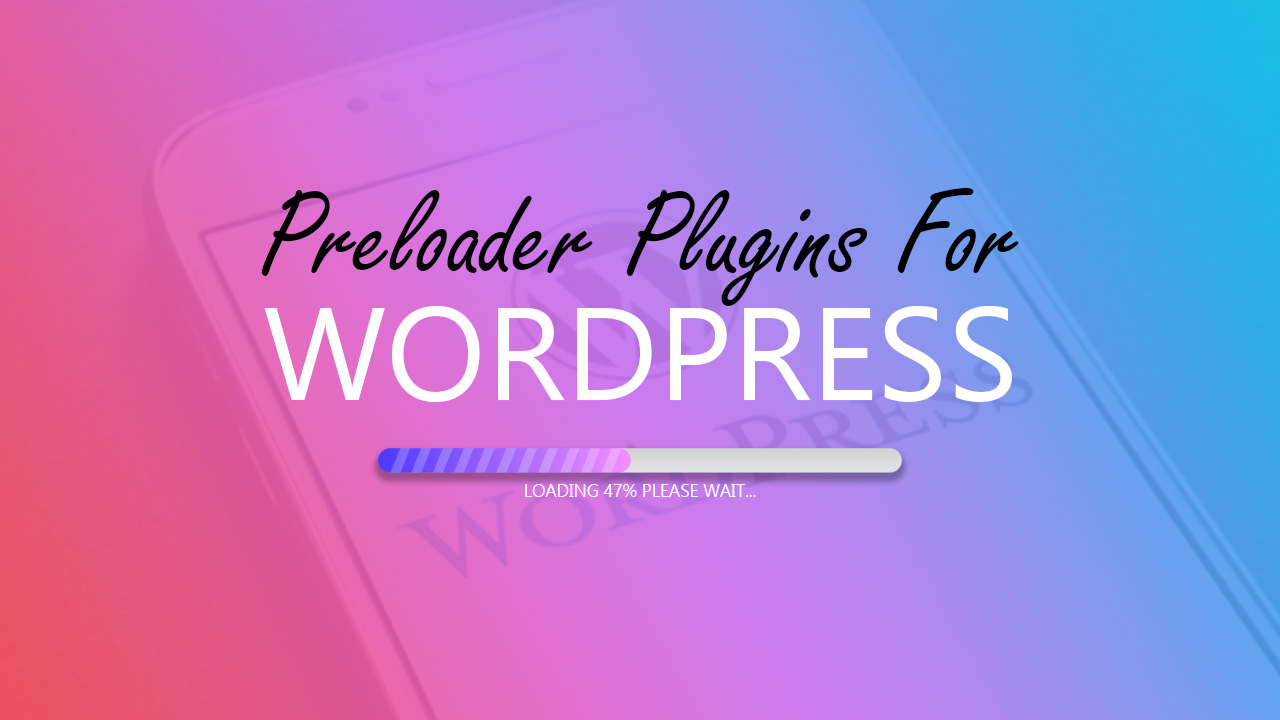 High-speed Internet has really made us spoiled. If your website is taking more than 4-5 seconds to load, visitor will not even bother waiting; he will simply close the page and find something else. That is exactly why website designers are now spending more time to come up with creative preloaders.
What's A Preloader?
Preloaders are also known as simply loaders. It is something what you see on the screen while the rest of the page's content is still loading. Preloaders are often simple or complex but attractive animations that are used to keep visitors entertained while server operations finish processing. Have a look at some examples of website Preloaders.
Why Is A Preloader So Important?
Preloaders are important interface elements that let visitors know that the website is working in background and hasn't crashed, it's just processing data. They are usually designed as moving stripes or blinking circles that represent that the website requires some time necessary for loading, which, although functional, aren't entertaining at all. Interesting animations can keep your website visitors engaged while they're waiting for the web page to load.
Have A Look At Some WordPress Preloader Plugins
When your website is taking too much time to respond, the best solution is to install a Preloader. Understanding your need, we collected the best WordPress Preloader Plugin that would absolutely help you choose the most suitable one to your websites. Let's start now!
WP Smart Preloader
This Plugin is basic CSS spinners and throbbers made with CSS and HTML markup. This provides optical feedback in case content is loading, so it allows to manage expectations and reduce the chance of a user abandoning your WordPress website.
Provide features:
Icon to circle
Full Customize
Faster Loading
No coding necessary
Fully Responsive with Cross-Browser compatible
CSS only Preloader no Gif no Image
Highlights:
 Easy to customize
No editing the header
Simple to install
 Loft Loader
This is a small and powerful Preloader WordPress Plugin. It allows users to insert a nice animated Preloader to websites. Besides, it has full control of its look and doesn't have any code.
Provide features:
Unlimited loader color
4 ending animation effects
7 loading animation effects
Option to enable/disable the preloader
Close button to quit the loading screen
And more
Highlights:
Easy to change colors
Clean and easy to use
Extremely responsive and helpful support
Preloader
This WordPress Preloader Plugin allows you to insert it to your websites easily. Besides, this plugin is well suited to various browsers and full customization.
Provide features:
Retina Ready.
Full Customization.
WooCommerce Support
10 Options to display Preloader
Compatible with Google Chrome, FireFox, Opera, Safari and more
Highlights:
Quick and easy
Work nice out of the box
Outstanding response time
Preloader by WordPress Monsters
This WordPress Preloader Plugin offers a nice animated image which users can relax until the site makes a respond. In addition, in this plugin, users will not see the loading process of the website. It also consists of various pretty preloaders, in particular, "With background" section.
Provide features:
Upload your own preloader
Cross-browser and responsive
More than 100 beautiful preloaders
Set time and your preloaders will be active even if the page has loaded
Highlights:
Easy Installations
Easy to use and simple to config
Comfortable setting page
Preloader by WordPress Monsters
BH Custom Preloader
This plugin allows you to upload the image that you want as well as change preloader image, background color, effects, speed, and other settings. Thanks to the fact that this is a jQuery Custom Preloader for WordPress sites, it will enable astounding custom Preloader. It also consists of 28 Preloader Images
Provided features:
Admin Option
Plug and Play
28 Preloader Images
Body Background Color Options
And Much More options
Highlights:
Excellent support
Easy to install
Custom Preloader Plugin
This WordPress Uploader Plugin helps you set your background or image. It just runs when your site loads and hides the front page till your browser downloads the Page Perfectly. It also provides a simple and colorful background.
Provided features:
Set Colorful Background
Preview Mode
Set Margins Options
Gradient Colors Generator installed
Set Image Width – Height
And more
Highlights:
Easy to use
A lot of options
Best Preloader Plugin
This Plugin allows you to insert the preloader to your website simply and quickly. It provides you finer control over preloader and you can choose the place to show the preloading page. Besides, you can also replace the default preloader image with what you want as well as change the size of it.
Provided features:
RTL compatible
Background color changer
Option to enable/disable preloader
Compatible with all WordPress themes
Have to default animated GIF preloader image
And more
Highlights:
Intuitive interface
Easy to use
Lightweight and fast
Preloader Plus – WordPress Loading Screen Plugin
This Preloader WordPress Plugin allows you to display a preloader when your site is loading. Besides, you can also use this plugin as a welcome screen to attract users. Besides, you can also show the preloader on any pages you want or just only on the front page.
Provided features:
Add a custom image
Set animations and speed
Set colors of the preloader and the text
Show or hide the name of the site on the preloader screen
Select between six animated icons and set their size
And more
Highlights:
Great enhancement
Awesome loading screen
Advanced image and advanced background
Preloader Plus – WordPress Loading Screen Plugin