December 29, 2021 | All | No Comments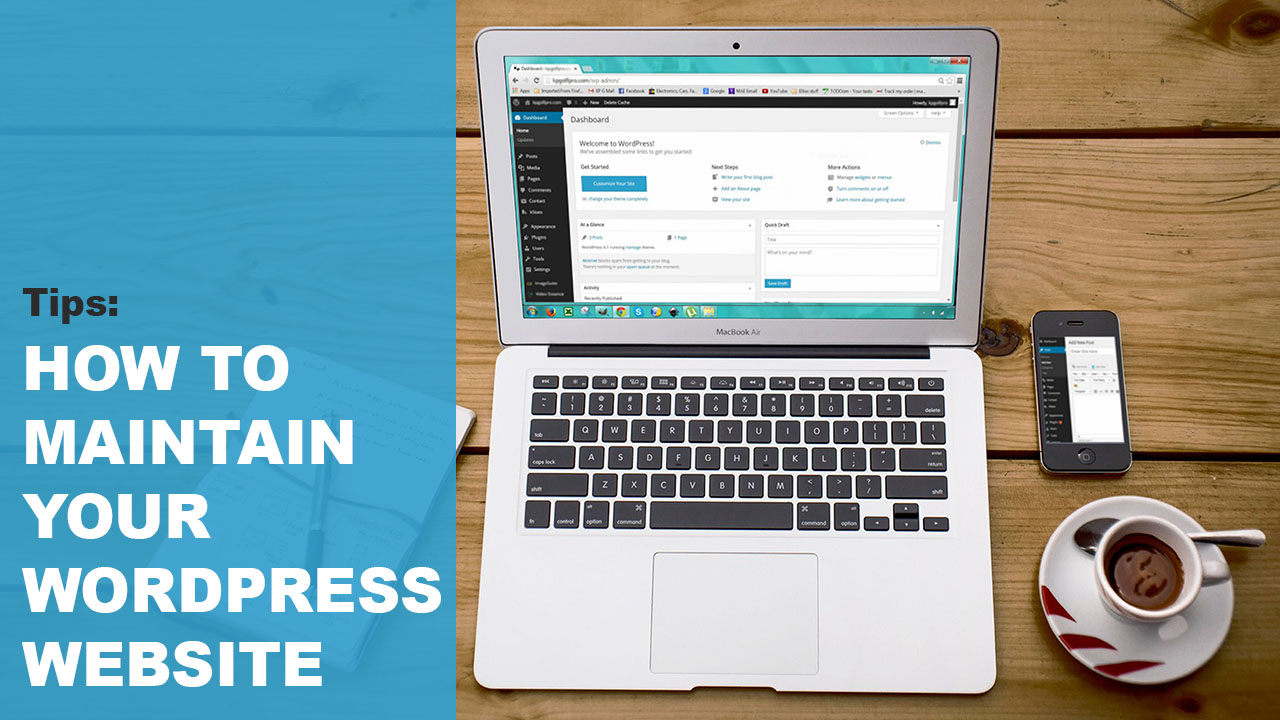 It feels so good to have just installed a new WordPress site. The site went fast, there were no conflicts between plugins, no errors. The idea of thousands of visitors every week exhilarates you, and you cannot wait to start seeing them on your page.
Having created the perfect site, your site struggles a few months down the road. A speed issue might arise, a plugin update could lead to a technical issue, or a person on your team might make a mistake. Is there something wrong?
Your WordPress site needs maintenance as do all other things in the world. Maintaining your website properly will ensure that it thrives for as long as possible. Our goal here is to provide you with ten solid tips on how to keep your website in top shape. If you follow them, your website will remain flawless at all times.
Back up your website regularly
Several webmasters find this irrelevant until life happens. It's like having spare tires when it comes to WordPress backups. They won't be able to predict when their services will be needed, but they'll always be there to help us when something goes wrong.
Any reason can wipe out the content of your website. There is a possibility of cybercrime, a faulty update, or malware invasion. Whatever the case may be, starting over isn't really a good idea. Backup your data if you haven't already. Restoring your site to a previous state prior to an error will help you recover it.
Backup plugins can help you back up a WordPress site. Choose a plugin and install it.
Ensure that your WordPress website's core, theme, and plugins are updated
Keeping your WordPress website updated is another important way to maintain it. In the same way as any other software product, WordPress is regularly updated.
Nevertheless, millions of WordPress websites still use outdated versions of the software. The update process may go wrong, and they are worried about something going wrong.
Honestly, it is true. You have a backup in case an update doesn't go as planned. It is far more advantageous to update your website than to not do so.
Additionally, you should use the same plugins and themes. The vulnerability of plugins contributes to the hacking of WordPress. You can avoid this by updating your themes and plugins when necessary.
You should also only install trusted plugins and themes. Check out the reviews and ratings of themes before installing them. The WordPress community should be able to accept it.
Additionally, you can scan plugins and themes for malware. You can use online tools such as VirusTotal for this purpose.
Delete Unuseful Plugins and Themes
If you don't need a theme or plugin, why keep it? As well as occupying space, it can cause problems for you as well. Therefore, you should keep the plugins and themes you need. If you aren't using them, delete them. They can be downloaded again in the future. A fast and secure website is the result of this simple practice.
Unuseful plugins and themes should be deleted
You should always keep in mind that any additional code on your website could be a source of hacking.
Optimize your site regularly for speed
A user's first impression of a website is its speed. A website that takes longer than three seconds to load gets the users' attention and they move on to another. For your site to remain popular, make it fast.
In addition to increasing your Search Engine rank, it keeps visitors on your site. Websites that load quickly are favored by search engines such as Google.
Here are 3 things you can do to improve your site's speed:
Turn on caching
You can improve the performance of your site the fastest this way. Using this technique, data can be avoided from being downloaded again and again as a result of redundancy. The steps are as follows:
Visitors view a page. The visitors are served a page from the database if the cached page is not available. The page will be stored in WordPress' cache at this point.
Now imagine that 3 minutes later, another visitor (or the same visitor) looks at the same page. Rather than serving the original page, the cached version is served. You won't have to download it again. Your server resources and time will be saved.
LiteSpeed Cache or W3 Total Cache are plugins that enable caching on WordPress websites. Additionally, I recommend trying WP Rocket, which is a good commercial caching plugin.
Image optimization
Readers are more likely to pay attention to your content if you include images. Search engines rank you higher if your content triggers emotional responses. If you don't optimize them, they can slow down your website.
By optimizing your images, you can reduce their file size without losing quality. There are a number of tools available for optimizing images in WordPress, including WP Smush, Optimal, and Compress PNG, and JPEG.
Activate laziness
Websites with lazy loading load faster initially. A visitor will see a load delay when the visitor loads a page. WordPress defers loading some resources until they are needed (i.e. when the visitor scrolls to that section).
Lazy loading can also be enabled on your website with WordPress plugins such as WP Rocket's Lazy Load and A3 Lazy Load.
Harden website security measures
WordPress can be hacked just like any other software if you don't follow the best security practices and measures.
Use security plugins
Security for WordPress starts with this simple step. Make sure a good security plugin has been installed and activated, such as WordFence. In addition to being regularly updated, the ideal security plugin will protect against malware as well.
Be Careful about Your Password
A password is like the door to your home. Thieves will have a harder time breaking in if the fence is stronger. The majority of WordPress users aren't aware of this. WordPress hacks result from weak passwords thousands of times a year.
WordPress users are most likely to use "123456" as their password. Many websites also use the default 'admin' username. For security reasons, neither of these should be used on your site. Likewise, make sure that your passwords are different for each website.
If you have ever visited a website with a high level of security, you may have noticed that you are forced to change your password after a certain period of time. Here's another thing you can do to ensure the security of your WordPress site.
Make use of WordPress' password management feature to help you manage your passwords. In addition to advising website owners and administrators to use strong passwords, the plugin automatically blocks unsuccessful login attempts.
Activate two-factor authentication
You cannot guarantee that your password will never be discovered, regardless of how secure it is. 2FA entails entering your username and password as well as an additional means of authentication. One-time passwords (OTPs) can be sent by text message, phone call, or other means.
You can protect and harden the security of your WordPress website by putting in place the appropriate systems. Automated password guessing attacks have increased dramatically in recent years, putting your site and users' sensitive data at greater risk. Adding two-factor authentication to your WordPress site is a great way to secure your site even further.
The hacker still can't reach your website even if he gains access to your password (except there is a high probability that he has access to your phone).
Use the free Two-Factor Authentication plugin for WordPress to enable Two-Factor Authentication on your WordPress site.
You'll find an extra security code field on your WordPress login page after installing and configuring any of the plugins.
Security measures on this list should be combined with this method.
Regularly optimize the WordPress database
The WordPress database is clean and well organized when it is freshly installed. Websites that become clumsy as they grow may slow down your site. WordPress uses a database to store all of your posts, pages, comments, categories, users, tags, and custom fields.
Make sure your database is organized before it becomes unmanageable. Plugins for WordPress database management include WP-DBManager, WP-Optimize, and WP Database Backup. To optimize your database, install and configure them.
Perform a full backup of your site and database before optimizing it.
Correct broken links
An error 404 is a result of a broken link. Changing a webpage's name or location without updating its internal links results in broken links. Checking and fixing these should be done periodically.
You may lose customers and SEO efforts due to broken links. As a result, you must clean up your internal linking structure. Small websites can be manually fixed if they are small. Depending on how big your website is, you may not be able to test east link one at a time.
Google Analytics, for example, can save the day. Analytics will provide you with a detailed list of all links resulting in 404 pages on your site. If these links are broken, you can redirect them to an appropriate page.
Make sure you test your forms from time to time
You can create beautiful forms on your website using several WordPress form builders. They may, however, cease to function properly. Often, this is caused by a misconfigured WordPress hosting server or an issue with the email server.
Additionally, it usually happens after updating your site core, plugins, or theme.
You need forms for your business if you want to retain your customers and sell. Therefore, you must ensure that your forms are still working properly by checking them regularly. You can fix WordPress not sending emails issues if a form is not working.
Ensure that you are constantly optimizing your site for mobile devices.
More than half of Google's searches are done on mobile devices. Because of this, mobile optimization is extremely important for your website.
We're not just doing this once. Keep optimizing your site for mobile devices as you make changes to your website.
To ensure that your site still loads quickly on mobile devices, you should regularly check it. Fast-loading sites will attract nearly half of your visitors. Be sure your online store displays well and has easy navigation. Google's tool for testing mobile-friendliness is available for free.
Be aware of user activities
Keep an eye on your blog if you have multiple users. You can only do this when you keep track of all activities on your site through a WordPress user activity log.
A user log shows who changed your website, when the change occurred, and the IP address that initiated the change. The information on this page is crucial when troubleshooting and fixing the issue.
It is one of the finest plugins useful for this purpose, WP Activity Log. In addition to tracking user activity, it helps detect suspicious behavior and prevent hacking.
Additionally, this plugin keeps track of the changes made within your core files, as well as to some of the most popular WordPress plugins. In addition to helping resolve issues, it can also assist in identifying unwanted code.
Conclusion
Your WordPress website runs smoothly only if you perform regular maintenance on it. It may not be possible or simply too time-consuming for you to keep your site in prime condition yourself sometimes. The following tips will help you keep your website in tiptop shape. As part of these efforts, WordPress core, themes, plugins, and data are updated, unused plugins are removed, databases are optimized, broken links are repaired, among other duties.